Now You Can Communicate More Effectively
The Avaya IP Office™ Platform is a basic business tool plus a whole lot more. It can help your team become more efficient and more productive. The Avaya solution is affordable for your small business, yet can give you the powerful capabilities available for larger companies.
Connect people with each other, with partners, and with customers from anywhere, at any time, with any device. Your mobile workers can be just as easy to reach and just as productive on the road as they are in the office. Whether at their desks or working remotely, your staff can respond quicker and make smarter decisions.
Expand the Capabilities of Your Small Business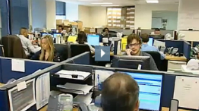 Avaya IP Office can expand the capabilities of your small business while leveraging the Avaya phones and infrastructure you already have.
Add support for your mobile workers with Avaya one-X® Mobile. Add video collaboration with the Avaya Video Collaboration Solution for IP Office. Expand connectivity with the Avaya Ethernet Routing Switch 3500 Series. A complete solution from a single source is easier to deploy, and lowers integration risk.